About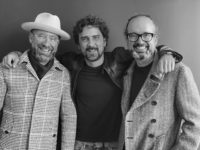 Infinito Studios is a creative content development and production company founded by writers, directors and producers with the aim to create in-house content that is unique and refreshing in nature.  We believe it is important to tell stories on both a local and global level and therefore Infinito has offices, with full development and production capacities, in Mexico, the United States and Spain. Our three founders are the brothers Albert and Oriol Uria, and Daniel Posada, who as Executive Producers, Showrunners and Directors, add up to more than 17 fiction and non-fiction feature films, 3 multi-awarded short films, and 4 highly acclaimed television series. Highlights include the commercial success El Chapo by Netflix (released in 180 countries and one of the most watched series on the platform during 2017); and Maradona, Sueño Bendito by Amazon Prime, which premieres in 2020.
As a house founded by artists, creativity, noteworthy artistic visions and boundary-pushing ideas are the core of the company. Story always comes first, and all of our projects are created & developed in-house. Infinito's projects focus on the needs of a restless society, which increasingly demands more and more vibrant stories, films and series that make us visit emotions, that have depth we can connect to and with.
To achieve this, the studio operates with a talented and experienced group of screenwriters, producers and directors who create and execute stories they are passionate about.
Let the dream go on…
Let it be I N F I N I T E.